Recipes and More
Click Here for Music: (minimize media window after opening) "Music by Johann Strauss II"



The Herrmann's are food lovers. Wanda Rosalie Amalie Herrmann and Magdalena Esterlina Augusta Herrmann (Gussie) were both professional cooks as well as full time mothers and wives. Family stories state they opened the first hamburger stand at the Minnesota State Fair, which is one of the largest state fairs in the country. They also had owned and operated restaurants. Because of them this page will be dedicated to favorite food recipes.
We believe that Gussie and Wanda along with their sisters may have been the best cooks on the whole planet. We know this may offend a few people, but we call em like we see em. If you don't agree with this and have some great recipes you would like to share please forward them. We love new food recipes. Thanks!
---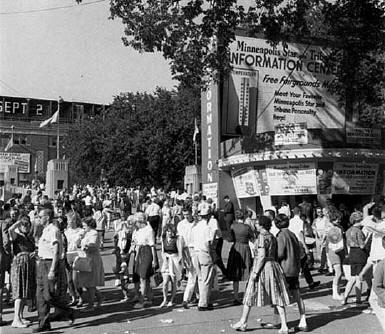 Minnesota State Fair 1962
---
"Eating is not merely a material pleasure. Eating well gives a spectacular joy to life and contributes immensely to goodwill and happy companionship. It is of great importance to the morale."- Elsa Schiaparelli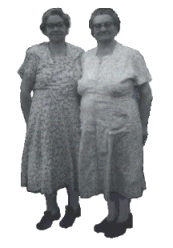 L-R: Magdalena Esterlina Augusta Herrmann and Wanda Rosalie Amalie Herrmann changed over the years from the above pictures as we all do, but these two ladies along with their sisters were family icons and what every aunt should be. Strong German stock, great mothers, great wives and wonderful cooks. There is not one single family member or friend who knew any of them that had anything but praise.
Cooking is such a large part of every family life. Everyone remembers their mother making that special something they liked. Some special dish they still remember even in their old age that mom cooked and no one else could cook as well.
---
Favorite Family Recipes
This page is a work in progress. Old family recipes will be added as they are received. There is an effort to resurrect the old recipes from family records. In the interim hope you enjoy the recipes that are listed here. Remember, share your favorite recipes and they will be entered. Genießen Sie!
---
Kartoffelkloesse
(Potato Dumplings)
This is a German favorite recipe. There are several variations to this recipe. Dumplings may be served with Knockwurst, Brats or any of your favorite dishes.
Ingredients:
2 tbsp butter (or margarine)
1 loaf white bread, cut into cubes
flour
2 pounds potatoes, peeled, cooked
1 egg
1 tsp salt
1/8 tsp ground nutmeg
pepper
Directions
In a small skillet, heat butter (or margarine) until starting to bubble and hot, add bread and sauté, stirring constantly, until bread has absorbed the butter (or margarine) and is browned. Set aside. Measure out and reserve 2 tablespoons flour, in mixing bowl and combine remaining flour with potatoes, egg, and seasonings, mixing well, portion dough into approximately 24 equal mounds. Flour hands with reserved flour and shape mounds into balls, press 3 bread cubes into each ball and seal closed, forming dumplings.
In 5-quart saucepan bring water to a boil, use slotted spoon to gently lower several dumplings into water (they will sink to the bottom), when dumplings rise to the surface, cook for 3 to 5 minutes longer. With slotted spoon, remove dumplings to warmed serving platter. Repeat procedure with remaining dumplings. Makes 12 servings of 2 dumplings each.
---
Kartoffelpuffer
(Potato Pancakes)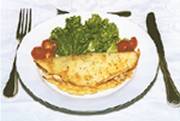 Another German favorite. So much can be done with potatoes. With this basic recipe you can change or add to your liking. Try a small amount of bacon or sausage!

Ingredients:
2 pounds potatoes, peeled and quartered.
1 large onion, quartered.
1/2 cup milk.
1/2 - 1 cup flour (use 1/2 cup flour with drier potatoes; up to 1 cup with more watery potatoes)
2 tsp salt.
2 eggs.
Vegetable oil (or your favorite equivalent oil).
Directions:
Grate potatoes and onion into a bowl. Add milk, then stir in flour, salt, and eggs. Mix well.
In a large heavy skillet (preferred), heat 1/2 inch frying oil until hot. Drop potato batter (1/4 cup per pancake) into skillet and fry until golden brown and crisp on both sides.
Drain on a paper towel.
---
Wienerschnitzel/Schweineschnitzel
(Lghtly breaded boneless veal or pork cutlet)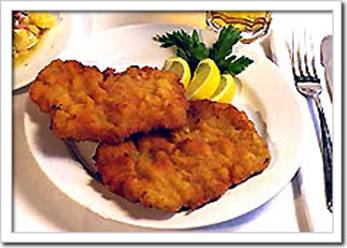 Pork cutlets are very good in this dish. This is a very simple dish to make, but oh so good.
Ingredients:
4 thin boneless pork chops or veal chops.
1/2 cup oil (Olive oil is preferred).
3/4 cup fine bread crumbs.
2 eggs.
salt and pepper.
2 lemons.
Preparation Time: Approximately 10 minutes.
Directions:
Heat the oil in a large skillet at medium high heat. Place each chop between two sheets of plastic and pound with the smooth side of a meat tenderizer until thin (1/4" to 3/8"). Beat the two eggs in a bowl that is wide enough to dip the meat into.
Spread the bread crumbs onto a plate or flat surface. Take each cutlet, season with salt and pepper and dip both sides of meat into eggs to coat. Then coat the entire cutlet with the bread crumbs. Place in hot oil and cook on both sides until golden brown. It only takes about 1 to 2 minutes per side. Serve each cutlet with half a lemon on the side. Some people go ahead and squeeze the lemon onto the schnitzel before serving. I prefer to squeeze the lemon juice onto the meat just before I eat it. I prefer to serve with half a lemon, rather than wedges, because it is not as messy when you squeeze it.
Some people serve this with a fried egg placed on top of the schnitzel.
---
Knockwurst with Sauerkraut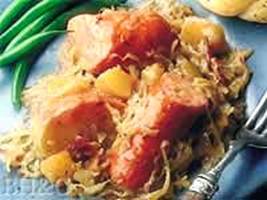 If you don't make your own sauerkraut there are several good sauerkrauts available directly from the store shelf, Hengstenberg's Bavarian Style, Steinfeld's, Kühne's. There are several others also.
Ingredients:
1/3 cup chopped onion.
2 slices cooked bacon, cut up.
1 cup beer.
1 cup water.
2 tablespoons cornstarch.
2 tablespoons coarse-grain brown mustard.
2 tablespoons molasses.
2 teaspoons ground allspice.
1/4 teaspoon pepper.
1 large rutabaga, peeled and cut into 1" cubes.
1 pound fully cooked knockwurst, bias-sliced into 2 to 2 1/2 inch pieces.
2 medium cooking apples, cored and cut into 8 wedges each.
1 - 16 ounce can sauerkraut, drained and rinsed.
Directions:
In a Dutch oven or large pot cook onion and bacon until onion is tender but not brown; drain fat. Stir in beer. In a 2-cup glass measure combine the water, cornstarch, brown mustard, molasses, caraway seed, allspice, and pepper; stir into bacon mixture. Cook and stir until thickened and bubbly. Add rutabaga; cover and cook 15 minutes. Stir in the knockwurst, apple wedges, and sauerkraut. Cook, covered, 15 to 20 minutes more or until apples are tender.
---
Sauerkraut and Pork Roast

As with the Knockwurst dish if you don't make your own sauerkraut there are several good sauerkrauts available directly from the store shelf, Hengstenberg's Bavarian Style, Steinfeld's, Kühne's. There are several others also.
This is an old family favorite dish that is very easy to prepare. You can use Pork Roast, Pork Chops, Pork Ribs, or whatever is your favorite cut of meat.
Ingredients:
3-pound Pork Roast
1/4 cup water
1/4 tsp black pepper
1/4 tsp salt
2 tbsp brown sugar (optional)
3 to 4 slices of bacon
1 or 2 medium sweet apples (amount depends on personal taste)
3-24 oz jars/cans of sauerkraut (Use just 2 jars/cans if less sauerkraut is desired)
4-6 small to medium size peeled sliced, or cubed potatoes. Cut potatoes lengthwise in half if preferred (Russets, goldens, reds)
4 ounces applesauce (optional)
Directions:
1. Clean the roast and damp dry with paper towel. Take salt, pepper and rub over roast (optional seasoning can be herb and garlic). Set aside. 2. In Roaster, spread out evenly 1 jar/can drained sauerkraut in bottom of roaster. Pour water over sauerkraut. Place pork roast in center of roaster on top of sauerkraut. 3. Place cut potatoes around and up against pork roast. Lay bacon strips lengthwise, evenly, over roast. Sprinkle brown sugar on top evenly. 4. Using the two remaining cans/jars of drained sauerkraut and cover pork roast forming a canopy over the entire roast. 5. Slice each apple into approximately 8 equal slices and spread evenly over the top of the sauerkraut covered roast. 6. Cover roast with roaster lid and bake at 350 degrees for approximately 2 1/2 hours. 6. Remove cover and continue baking for 1/2 to 3/4 hour more to lightly brown the top of sauerkraut.
What makes this simple dish so good is the sauerkraut acts as a canopy that permeates the potatoes, pork roast and apple flavors together.
---
Kartoffelsuppe
(Potato Soup)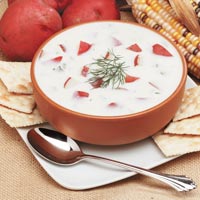 Another German favorite is potato soup. There are several variations that can be made of this soup. This is just one example.
Ingredients:
4 medium peeled and cubed Russet potatoes.
1 medium onion
2 to 3 stalks of celery
2 medium size carrot sticks
6 to 8 slices bacon (Opional: Add 2 - cups of cubed ham)
1/2 tsp salt
1/4 tsp pepper
3 - cups of 1/2 and 1/2 or whole milk if preferred
2 - 12 oz cans of chicken broth
1 package of Knorr Leak Soup Mix (optional for richer soup)
1 small bay leaf (optional)
3 to 4 tbsp of butter
Thickening agent:
-Cornstarch, or
-Flour, or
-Instant potatoes
Directions:
In large pot fry diced bacon till brown. Sauté diced onions in bacon fat. Place cut potatoes, carrots and celery in pot. Pour chicken broth in pot and add water to cover vegetables by 1/4 - 1/2 inch. Boil until vegetables are fully cooked. Pour 1/2 and 1/2 (or whole milk) into pot. Mix in salt and pepper to taste (or favorite seasoning). Mix in leak soup mix (optional). Bring to boil stirring occasionally so that milk will not stick to bottom of pot. Continue cooking at low boil (simmer) for 20 - 30 minutes. During this time mix in either flour, cornstarch or instant potatoes to thicken.
---
Bavarian Strawberry Cream
Ingredients:
1 cup fresh strawberries
3/4 cup sugar
1 tbsp. gelatin (unflavored)
1/2 cup cold water
2 tbsp. lemon juice
1 cup cream
fresh fruit for decoration (peach, cherry, apple, orange, apricot, black/red currants)
Cooking:
Slice strawberries and mix with the sugar. Set aside until sugar dissolves. Sprinkle gelatin over cold water. Let stand for 5 minutes, then heat a little bit until gelatin dissolves completely. Add gelatin and lemon juice to sliced berries. Add in the whipped cream. Pour into a fancy mold or serving dish. Chill in the fridge until set. Carefully unmold and serve. Decorate with the slices of lemon and/or orange (optional).
---
Black Forest Cake
(Enjoy this cherry-chocolate cake and praise German cuisine once more!)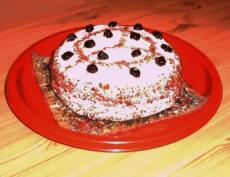 This great-looking cake is originally called Schwarzwaelder Kirschtorte. As for me, this name itself is very juicy and delicious as the cake! It's not at all difficult to cook, so carefully study the recipe below, put on your apron, and get started!
Ingredients:
PASTRY:
1 2/3 cups all-purpose flour
1 1/2 cups white sugar
2/3 cup unsweetened cocoa powder
1 1/2 teaspoons baking soda
1 teaspoon salt
1 1/2 cups (butter-) milk
1/2 cup shortening
2 eggs
1 teaspoon vanilla
1/2 cup Schwarzwaelder Kirschwasser (I used home-made cherry liquor)
FILLING:
1 cup sugar powder
1 pinch salt
1 can (0.5 liter) pitted cherries, drained
1 cup heavy whipping cream
1/2 teaspoon vanilla
1 tablespoon kirschwasser
TOPPING
1 square semisweet chocolate, or remaining crumbs
Cooking:
Preheat oven to 350 degrees F (175 degrees C). Line the bottoms of two 8 inch round pans with parchment paper circles (since I didn't have such paper, I just greased the pans). Sift together flour, cocoa, baking soda and 1 teaspoon salt. Set aside.
Cream shortening and sugar until light and fluffy. Add eggs and beat well. Add vanilla. Add flour mixture, alternating with milk, beat until combined.
Pour into 2 round 8 inch pans. Bake for 35 to 40 minutes, or until a toothpick inserted into the cake comes out clean. Cool completely. Remove paper (if any) from under the cakes. Cut each layer in half, horizontally, making 4 layers total (as you can see from my picture, I chose not to cut the layers because they looked too fragile to cut them). Sprinkle layers with 1/2 cup Kirschwasser.
In a separate bowl, whip the cream to stiff peaks. Beat in 1/2 teaspoon vanilla and 1 tablespoon Kirschwasser. Add sugar powder, and a pinch of salt. Beat again. Spread first layer of cake with 1/3 of the filling (use 1/2 of the filling if you have only 2 layers instead of 4). Top with 1/3 (2/3) of the cherries. Repeat with the remaining layer(s).
Frost top and sides of cake. Sprinkle with chocolate curls made by using a potato peeler on semisweet baking chocolate. Or you can use the remaining crumbs to sprinkle the sides of the cake.
Now, get your cup of tea or coffee, und Guten Appetit!
---
German Gingerbread
Ingredients:
2 1/2 tbsp. of golden syrup
1/2 cup of butter
1/2 cup of brown sugar
egg yolk
2 cups of plain flour
1 tsp. of baking powder
3 tsp. of ground ginger
1/2 tsp. cinnamon, optional
extra flour for rolling pastry
currants, peel, cherries and a little icing

Cooking:
Stand container of golden syrup in hot water to soften. Beat the butter and sugar to a cream, then beat the egg yolk. Beat in the syrup. Slowly add flour, baking powder, ginger and an optional dash of cinnamon. With floury hands kneed into a dough. Wrap in plastic and place in fridge for 1 hour, making it easier to roll out. Brush flour on the rolling pin and under the dough. Roll to an even 1 cm thick and cut out shapes.
Place on a greased tray about 2 cm apart and bake in a moderately slow oven (180 degrees Celsius) for about 12 minutes. Leave for a few minutes and remove with a spatula.
Decorate with icing, peel, cherries etc.
---
Pflaumenkuchen
(Plum Pie)
Ingredients:
4 cup flour
3 sticks butter or margarine
1 cup sugar
1 tsp salt
4 egg yolks (save whites)
1 tsp vanilla
3 lb little purple plums (quartered)
1 cup apricot or peach jam
Cooking:
Make a dough from flour, butter, sugar, salt, egg yolks, and vanilla. Press the dough into cookie sheet with your fingers, forming a rim. Spread thin layer of peach or apricot jam on top of dough. Now put the plums in rows on the dough. Beat egg whites slightly and brush over plums, sprinkle two tablespoons of flour over egg whites. Bake at 375 degrees F for 40 minutes. If too sour, shake some powdered sugar on top. This can also be made in the winter substituting apples for the plums.
---
Apfelstrudel
(apple strudel)
Yield: 6 servings

Ingredients:

6 c Apples; Tart Sliced 3/4 c Almonds; Ground
3/4 c Raisins 8 oz Fillo Leaves; 1/2 Box Thawed
1 tb Lemon Rind; Grated 1 3/4 c Butter;(No Margarine) Melted
3/4 c Sugar 1 c Bread Crumbs; Finely Crushed
2 ts Cinnamon

Instructions:

Mix apples with raisins lemon rind sugar cinnamon and almonds. Set aside. Place 1 fillo leaf on a kitchen towel and brush witl melted butter. Place a second leaf on top and brush with butter again. Repeat until 5 leaves have been used using about 1/2 c of butter. Cook and stir bread crumbs with 1/4 c of butter until lightly browned. Sprinkle 3/4 cup crumbs on the layered fillo leaves. Mound 1/2 of the filling in a 3-inch strip along the narrow end of the fillo leaving a 2-inch border. Lift towel using it to roll leaves over apples jelly roll fashion. Brush top of the strudel with butter and sprinkle with 2 T crumbs. Repeat the entire procedure for the second strudle. Bake the strudels at 400 degrees F. for 20 to 25 minutes until browned. Makes 2 strudels 6 to 8 servings each. NOTE: Frozen fillo leaves for strudel can be found at most supermarkets in the frozen foods sections.
---
Barvarian Sausage Salad
Yield: 4 servings

Ingredients:

1/2 lb Knockwurst; cooked / cooled 2 ea Pickles; small
1 ea Onion; medium 3 tb Vinegar
1 tb Mustard; prepared * 2 tb Vegetable oil
1/2 ts Salt 1/4 ts Pepper
1/4 ts Paprika 1/4 ts Sugar
1 tb Capers 1 tb Parsley; chopped

Instructions:

Mustard must be the strong Djon or Gulden Type. Cut the knockwurst into small cubes. Mince the pickles and onion. Mix together the vinegar mustard and oil. Add salt pepper paprika and sugar. Adjust seasonings if desired. Add the capers; mix well. Stir in the chopped knockwurst pickles and onions. Just before serving garnish with chopped parsley.

---
Bauernfruhstuck
(farmers breakfast)
Yield: 4 servings

Ingredients:

4 ea Potatoes; Medium 1/2 ts Salt
4 ea Bacon; Strips Cubed 1 c Ham; Cooked Small Cubes
3 ea Eggs; Large 2 ea Tomatoes; Medium Peeled
3 tb Milk 1 tb Chives; Chopped

Instructions:

Boil unpeeled potatoes 30 minutes. Rinse under cold water peel and set aside to cool. Slice potatoes. In a large frypan cook bacon until transperent. Add the potato slices; cook until lightly borwned. Meanwhile blend eggs with milk and salt. Stir in the cubed ham. Cut the tomatoes into thin wedges; add to the egg mixture. Pour the egg mixture over the potatoes in the frypan. Cook until the eggs are set. Sprinkle with chopped chives and serve at once.

---
Baked Chicken German Style
Yield: 6 Servings

Ingredients:
1/2 c Butter; or margarine
1/2 c Flour
2 c Chicken broth
1 1/2 c Milk
2 ts Lemon juice; fresh
1/2 ts Salt
1/2 ts Pepper
1/4 ts Nutmeg
8 oz Egg noodles; cooked & - drained
3 c Chicken; cooked diced
2/3 c Parmesan cheese; grated
2 ts Paprika

Instructions:

Preheat oven to 350~F. degrees. Melt butter in large saucepan over medium low heat. Whisk in flour and stir 3 minutes. Gradually whisk in broth and milk. Reduce heat simmering until thick about 10 minutes. Blend in lemon juice and seasonings. Combine cooked noodles and half the sauce tossing gently to blend. Place in the bottom of a buttered 2-quart casserole. Top with chicken and remaining sauce. Combine Parmesan cheese and paprika sprinkle over casserole. Bake until bubbling and golden brown about 30 minutes. Serve hot.

---
Stollen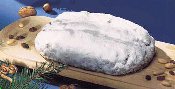 Ingredients:
3 - 3/4 cups flour
1 - cup confectioners sugar
1/2 - cup lukewarm milk
3 - tsp yeast
8 - tbsp softened sweet butter
1 - tbsp lard (or butter)
1 - large egg
1/2 - tsp salt
1/2 - tsp vanilla extract
1 - tbsp rum
pinch of ground cinnamon
grated peel of 1/2 lemon
1 - cup slivered almonds
1/4 - cup candied lemon peel
1/4 - cup candied orange peel
1 1/4 - cup raisins
For basting:
6 - tbsp mil (room temperature)
8 - tbsp butter
3/4 - cup powdered sugar
Directions:
Sift the flour into a bowl and make a crate in the center. Into the crater, add 1/4 cup of the confectioners' sugar and 1/4 cup of the milk. Sprinkle the yeast over the milk and dust the yeast with a little flour. Let the yeast develop for 15 - 20 minutes.
Add the butter (or lard), egg, salt, remaining sugar, vanilla extract, rum, cinnamon, grated lemon peel, slivered almonds, candied lemon and orange peels, and raisins. Add only enough of the remaining milk to make dough pliable. Knead thoroughly and cover the dough with a damp towel and let it rise overnight.
Knead again for 1 minute then shape the dough into a loaf and put it on a large buttered baking sheet. Use your fingertips to push back into the dough and raisins that may have popped up to prevent scorching. Baste the loaf with tablespoons of milk and bake in a preheated oven at 350 degrees for approximately 50 minutes. Stollen must turn golden brown. Test to make sure it is done with a toothpick.
Baste the stollen generously with butter while it is still hot, then sprinkle with powdered sugar. Repeat this process in order to attain a nice white surface and to help keep the stollen fresh and moist for several weeks. It's best to store for at least a week before serving.
---