Web Links and Comments
Click Here for Music: (minimize media window after opening) "Music by Rodgers and Hammerstein"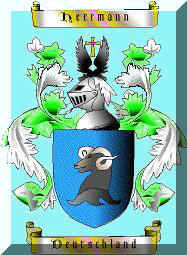 Note: Because of undesirable web site tapping from advertising company's the open forum and discussion section of this web site had to be closed. Hopefully this page can be reopened in the future. Genealogy is important to finding our family histories. This page will be dedicated to listing all of those families who desire to put their web links in this site. It is an honor to do so.
To submit your family web site write to herr-gen@comcast.net with your site link and it will be listed in this page. Do not think your web site is insignificant. There may be some piece of data you have that can greatly help another person looking for their families.
In addition to listing your web site if you have comments they will be added. Write your comments to herr-gen@comcast.net and your comments will be added below in this page.
<![if !vml]><![endif]>
Below are genealogical family links that have been offered for viewing to help in family research that people have spent many hours preparing.
---
Ellis Island http://www.bbcleaningservice.com/history-of-ellis-island.html Contributors, Alexa and Tom Coner
Ellis Island http://www.familysearch.org/wiki/en/new_york_passenger_arrival_lists_ellis_island_(familysearch_historical_records) Family Search
Records http://www.archives.gov/search/immigration National Archives
Quotes https://householdquotes.co.uk/ultimate-genealogy-guide/ Contributor, Denise Morgan
Blohm-Ahnen http://www.blohm-ahnen.de Contributor, Fokke Blohm site owner from Germany.
Ancestry.com http://www.ancestry.com Genealogy search engine.
rootsweb.com http://www.rootsweb.com Genealogy search engine.
Translation site http://translate.google.com/#auto|en| Language translation site
Cindy's List http://www.cyndislist.com/ Genealogy search engine.
Family Search http://search.labs.familysearch.org/recordsearch/start.html#p=home Genealogy search engine.
Home Advisor http://www.homeadvisor.com/article.show.History-at-Home-A-Guide-to-Genealogy.17370.html Genealogy information
Smarter Hobby https://www.smarterhobby.com/genealogy/ Genealogy Research and Information
DNA Research https://www.genealogyexplained.com/dna-testing/best-dna-test/ DNA Research Explained

---
<![if !vml]>

<![endif]>
-Richard, Wie geht es Ihnen! I have a question regarding Emil Herrmann. Have you located yet what part of Berlin Emil was born?
Roger G.... 4/28/2011
answer:
Mir geht es gut! Thank you for asking :-) No I have not found his origins in Berlin yet. I do not know if he was actually born in Berlin proper or whether he was born in nearby Potsdam or a similar area. I will be retiring shortly and expect to spend much time on this puzzle though.
R. Herrmann
---
-Hello Richard. May I ask who you are related to through the Reinking family line and do you know the year they immigrated to the U.S.?
J. D. Doegle 4/3/2011
answer:
Thanks for writing. Yes, I do know the approximate year my relatives immigrated, it was about 1858 or 1859. Two different census records. My relative was my g-grandfather Christian Heinrich Reinking. He married Katharina Hagemann my g-grandmother who also immigrated the same time per census records. She was born in Württemberg and Christian was born in Westphalia. I am a grandson of their daughter Wilhelmine Reinking. The third child born to Christian and Katharina.
R. Herrmann
---
-Richard, your web site helps me very much in my family research. I was always told that the Modrow name was not really a German name at all, but most likely a Polish name. You have made it very clear that it is one of many names for Germans depending on their location in Germany or what even their family did for a living. Very interesting. Thank you again!
R. Reinke 2/15/2011
answer:
Thank you for viewing the web site. I appreciate your positive comments! You are absolutely correct. Modrow is as much German as Schmidt for example. The Modrow's were German Lutheran not Polish. In all due respect for the Polish, I am just stating that the Modrow's were and are German they just so happen to live in a once prominent Polish country. As I stated in my data that Friedrich II annexed that part of Poland in the 1700's as he believed that it was German territory from hundreds of years prior and of course the Polish had other ideas. Friedrich made it worth the German families while to inhabit the area by giving land and money in some cases. I believe from what I have found so far that is the most likely reason the Modrows and the Eickstaedt's were there.
Please keep checking back. I will be in retirement soon and intend to start spending much time in genealogy research for family histories and adding to this web site.
R. Herrmann
---
-I love your web site. I also enjoyed the pictures, music and the history. I found family members I didn't even know I had. Thanks!!
D. Smith 6/12/2010
answer:
Thank you D. Smith. I truly appreciate the kind comments. It is a work in progress to be sure :-)
R. Herrmann
---